Biography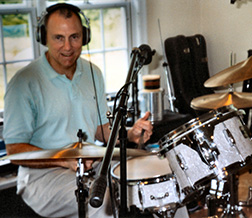 Kim Martin has taught more than 1000 students in the DC area over the last 25 years providing each with a customized approach to solving their musical challenges. Several have auditioned successfully for premier big bands/jazz ensembles such as Whitman High School, Richard Montgomery High School, Rockville High School, Wooten High School, Bethesda Chevy-Chase High School, Miami University, Blues Alley Youth Orchestra, Montgomery College and the Duke Ellington School of the Arts.
Kim formally studied the drum set for four years in Bethesda MD. Kim was referred to jazz great Joe Cusatis in New York City and studied with him for six years. Kim studied jazz concepts, big band orchestration, chart reading and classical snare drum methods. Kim also learned and applied advanced matched/traditional grip positions and the associated finger techniques.
Kim's has appeared at Kennedy Center and Blues Alley with formal appearances on both Arlington (see videos) and Herndon Community TV. Kim has performed for politicians/luminaries such as Dick Cheney, Tim Russert, Hillary Clinton, Antonin Scalia, Laura Ingraham, Vincent Gray, Terry McAuliffe and Jesse Jackson.
Kim was a founding member of doom metal pioneers Force and Iron Man (listen to Discography). Simultaneously, Kim played drums for the Bill Potts orchestra and soul legend Phil Flowers Sr. much later renditions of the "Flower Shop". (Kim also performed with his son, Phillip James Flowers). Early, full time, variety work included bands led by Avon Lucas, Skip Mahoney, Orville Saunders and Joe Hall (original Blackbyrds members), and Cathy Ponton King..
Kim performed for several years with the original Daryl Davis Band (see videos). Kim has also performed with and appeared at Blues Alley with jazz vocalist Christian Josi and pianist Sean Lane (listen to Discography).
Kim's former students include:
Luther Gray – Premier drummer/percussionist/arts educator in Boston. Major traditional/free jazz composer and contributor, performing/recording with Buck Hill, Joe Morris, Fred Anderson, Ken Vandermark and many others. Creator of major musical groups Percussion Incorporated and Bamboula 2000 (Big Easy Music Award). (5 years of study)
Ben Schatz – Churchill H.S. drum line captain who received Tri-M Musical award (Rating 1) & Louis Armstrong Jazz Award for finest musician. (5 years of study)
Reuben Dubester – youngest member of the Blues Alley Youth Orchestra, successfully auditioning at age 13. Reuben was also accepted to the Duke Ellington School of the Arts. (4 years of study)